FEMI OWOEYE (Reporting from Cape Town, South Africa)
The very first ever BMW X2 has made its official appearance to the African media and so ready to roll into showrooms of the sub-Sahara Africa.
As we prepare to test-drive the bold and audacious-looking machine today, one experience that journalists present at the launch would not likely forget so soon is that of a bird.
I was almost going to have a headline titled: BMW X2 media launch attracts the cheekiest bird ever.
I departed Nigeria Wednesday night, landed at Johannesburg early Thursday morning, waited briefly before flying to Cape Town, the venue of the X2 launch.
Towards the end of Thursday, a press conference was held at Shimmy Beach Club, a restaurant overlooking the sea. At the venue, the bold looking BMW X2 was parked close to the water bank, displaying a personality of a restless youth, ready to play. Inscribed on the side of the new X2 are two daring words: "TOTALLY UNGOVERNABLE".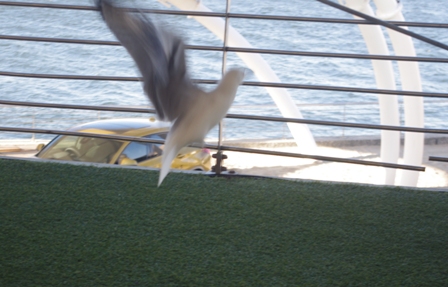 While we watched the car with interest, capturing its bold image on my camera lens, a medium-size bird with black-striped white feather appeared on the scene. It was such a pleasant coincidence. If the X2 is totally ungovernable, the bird was intractable.
I've never seen a wild bird so cheeky. Of course I keep birds. My favourite hen is named Lilly. Yes, Lilly is such a gentle hen. It prefers to eat her food standing on my palm.
But this is supposedly a wild bird. It landed, walking round our tables with youthful curiosity. It must have felt the aroma of the pieces of meat-on-stick and other nibbles displayed on the tables for journalists. Despite being chased off by seated gentlemen of the press, this pert bird refused to give in. Like a Messy of the birds' world, it won't leave without scoring.
With youthful spirit of ungoverned-ability, thrice it pecked on and ate some of the meats prepared for journalists. it was so funny. It kept coming back and forth, eliciting roar of laughter. That daring bird, I must say, added some life to the media presentation of the new "Totally Ungovernable" X2.
If anything, the bird displayed ungovernable character. So Cheeky…