One of the world's most significant auto technology breakthroughs, Aquada, is a car capable of  making over 60 kilometers per hour on land and over 160 km/hour on water, reports FEMI OWOEYE, who had a ride  in the car in London
It happened at National Exhibition Centre(NEC), Birmingham, United Kingdom, where I visited as a motoring journalist. Though my head was turned by many machines on display, I stepped out of the exhibition hall to ensure I missed nothing. Turning to the East-end of the Centre, I sighted an unusually styled sports car parked on a concrete ground close to a massive Lake situated close to the NEC.  My curiosity went wild.
'This is definitely a sports car', I thought. 'Why are people milling around it?'
Like the Biblical Moses did towards the burning bush on Mount Sinai, I said to myself: 'I'll move close and see the great sight'. But unlike Moses' case, I received no command of: "Draw not nigh hither: put off thy shoes from off thy feet…" So with no restriction, I walked closer. On getting to the side of the machine, my attention was first drawn to its odd-looking interior. Strange seating arrangement. No rear seats, it has got three front seats, (two passengers' and one for the driver located in the middle.
'Driver's seat in the middle?' I thought. 'This is weird'.
Standing by the unusual car was a white man of an average height, who introduced himself as Ian Walters, Managing Director of Aquada Sales Limited.
Then we started conversing:
Femi Owoeye: Hello sir.  I'm a motoring Journalist from Nigeria. This looks a bit odd, especially the interior. What sort of car is this?
Mr. Walters: This is Aquada, the fastest amphibian car in the world
Femi Owoeye: Amphibian? What do you mean?
Mr. Walters: It's more than a car.  It rides on the road like a normal car and rides on water like a flying boat.
Femi Owoeye: I see. I can see that it's sitting on four tyres and has got  anormal steering, though strangely located.  How does it cruise on water without sinking?
Mr. Walters: Those tyres will automatically fold into the body as soon as it enters into water by certain depth. It works with sensors. On water, it rides like a flying boat, though more stable. It can't capsize. And on land, it's a normal sports car.
Femi Owoeye: Why is it having only three seats with drivers' located in the middle?
Mr. Walters: It was designed that way to achieve more balancing on water
Femi Owoeye: Interesting.  Do you mind if I have a ride in it?
Mr. Walters: Why not?
Femi Owoeye: Assuming only the driver and one passenger ride in the car, how do you achieve balancing?
Mr. Walters: That does not matter. The technology is such that once the driver is on the driving wheel, the required balancing is automatically achieved.
Aquada Road and Lake Ride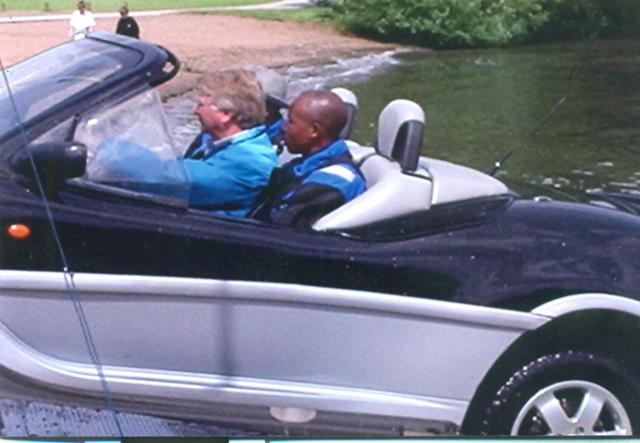 Before we got on board , Mr. Walters handed me a special blue jacket with silver stripes. While I was still trying to fashion out where the door handle is so that I could board Aquada like any other car, Walters simply hoped in.
"Where is the door", I asked.
"It's got no door, hop in man", replied Walters.
I leaped in and Walters started the engine. At a speed of about 30km/hr, he drove the car normally through a mini race track at the NEC, stopped, reversed and turned towards the Lake.
At a concrete shore of the lake, Walters applied the brake, and the car stopped with military obedience. Now facing what looked like an endless water. Though I believed all I heard from Walters,
especially regarding balancing, I instinctively thought of possibilities.'What if the unexpected happens', I thought. It was too late to change my mind.
I prayed silently: "I cover this car with the blood of Jesus."
'This would be interesting', my thought kept flowing like a river, as the car cruised gently into the water.
Mr. Gibbs pressed a knob and I could see the wheel of the car retracting into the wheel-arch like a radio antenna. Shortly, Aquada was slicing through the water at an incredible speed, just like a flying boat, but quite steady. Few seconds after take-off, the thought in me had changed from that of cruising in a car to that of a speedboat, feeling like James Bond in the movie titled: "The Spy Who Loved Me".
Upon reaching the far end of the lake, we made an arc turn and shortly we were back at take-off point. As the "speed boat" got close to the shore, I felt a lift. The tyres pushed out in readiness for road speed.
In a chat after the water/road test, Mr. Gibbs told me the car is part of the Aquada Bond series. But he couldn't say whether that was a veiled reference to James Bond and the sports-car-cum-submarine that the super spy operated in the James Bond movie mentioned above.
"One hundred of the cars are being built", he revealed, adding "And they are on sale for about £150,000 each".
On what factor motivated the design of Aquada technology, Walters explained: "Considering the heavy traffic in cities such as London, is it not pointless to have a sports car that can't leave the roads for a short cut across a river such as the Thames?
"That was the question that came up. And with a YES to the foregoing question, it was concluded that the world needed a proper amphibian car by which you can have a really good car on the road, and an exciting toy that can tow a water skier, that you can commute to work with, that you can go to St. Tropez with and take two girlfriends."
Any plan to introduce this to African market, especially Nigeria with population of about 150 million people?" I asked.
His answer: "Of course, that would be part of our expansion plans. As soon as any prospective representative shows interest, we would have no choice but to explore Nigerian market".
Given what I saw and experienced riding in the car, Aquada will no doubt be a perfect transport solution for Lagos, Niger Delta and other states blessed with waterways across Nigeria.
This car settles an age long score between Great Britain and other parts of the world, as it is neither left-hand-drive nor right-hand-drive. It's driven from the centre.