[dropcap]O[/dropcap]ne of the world's most iconic car, Ford Mustang, has arrived Nigeria, courtesy of Coscharis Group, Nigeria's major franchise dealer for Ford. According to the company's Group managing Director, Mr. Josiah Samuel, who made the announcement last week, the car, which is already cooling off at the company's showroom in Lagos, is to be launched into the nation's automobile market soon.
As contained in a press release received from the company recently, Coscharis' decision to introduce Mustang to Nigerian competitive automobile market was motivated by success the company recorded from sales of previously introduced Ford Ecosport, Fision, Edge and Flex variants.  The company believes that Mustang would make friends quickly among the nation's auto lovers, partly because of its intelligence.
"We believe the Mustang is a must have among all lovers of premium automobile in Nigeria", said Coscharis Motors boss, Mr Samuel, adding, "in line with our vision statement, our focus is always to remain timeless in our relevance to automobile consumers."
The all-new Mustang features lots of innovative technologies, including Intelligent access with push-button to start as is the case of the new BMW X4, plus standard Track Apps, which shall enable drivers to customise their time behind the wheel.
Mustang also comes with improved ergonomics and tactile switches. Right inside its roomier cabin, its plain instrumentation shall put vehicle information right in front of the driver. Aside a new suspension, the iconic car has been made wider, a development, which resulted in improved shoulder and hip room for rear-seat passengers, and a better shaped trunk that can accommodate two golf bags.  The car is rolling out with new Ford-developed stability control system, which according to its manufacturer,  has been  re-tuned to maximise Mustang's dynamic capabilities.
It is noteworthy that each 2015 model is meant to further celebrate t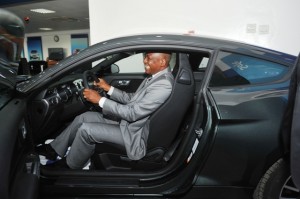 he Mustang's 50th Anniversary held April 17, 2014, which, we gathered, shall be indicated with a badge on each model's instrument panel in form of  the galloping pony logo and the words "Mustang – Since 1964."
Addressing the media late last year, Ford's chief engineer, Dave Pericak, said his team knew from the onset that if they were to build a new Mustang, they had to do  it right. "So we took our time", he explained, "built a new Mustang from the ground up that is quicker, better-looking, more refined and more efficient, without losing any of the raw appeal that people have associated with Mustang for half a century".