Whenever you jump inside your beautiful and valued car, always remember this: Your feet are off the ground. The only link between you and the earth are your vehicle tyres.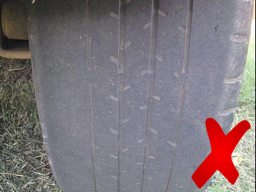 [dropcap]T[/dropcap]o a large extent, therefore, your safety while driving depends on how safe your tyres are. Therefore, you are advised to take note of the following cautions and precautions.
1. Before you embark on a journey, check your vehicle tyres, ensuring they are adequately inflated. Check them round to ensure there are no deep side cuts. Note that under-inflated tyres could adversely and badly affect your braking system as well as steering system.
2. Excessive or uneven wear will shorten the lifespan of your tyres. To avoid problem of excessive tyre wear, always take good care of your braking system and ensure your suspensions and alignments are in good order.
3. It is essential to always keep an eye on your tyre pressure. But you are strongly advised against checking of tyres after you just arrived from a long journey, after travelling on a high speed and when your tyres are still hot. The best time to check your tyre pressure is when the tyres are cold. Therefore, if you've just made a long journey, wait till your tyres cool and calm down before gauging them so as to get an accurate result.
4. One of the essences of checking or gauging tyres is to ensure they are not under-inflated, a condition capable of resulting in more fuel consumption.
5. Warning: If one or more of your tyres have large seep cut in the side wall, you could be arrested in Nigeria by the FRSC or VIO and in England by the VIO. For it is illegal.
6. It is equally essential to monitor the tread level of your tyres. It is illegal to drive on a tyre that is won below 1.6mm of depth of tread over three quartres of the breadth.
7. Do you turn your vehicle steering wheel, whenever it is stationary? Many motorists do. But such action is capable of damaging your tyres and steering.
8. And it is important to ensure your wheels are well balanced. While driving, do you hear some vibration sound from around your steering areas? That is likely to have been caused by an unbalanced wheel. Don't get exploited by a mechanic. Take the car straight to a suitable garage for wheel alignment.
Last Words: Do Your Drive a Four-Wheel-Drive Car?
Of course, for a country dotted with rough roads and terrains like Nigeria, a four-wheel-drive is very useful, because of good road holding as well as excellent driveability on rough terrains. But be warned: Driving a 4×4 requires certain techniques different from driving a non-four-wheel-drive car.  Do you know what? A four-wheel-drive car is more likely to roll over(summersault), if you are forced to turn sharply or drive too fast  around a tight corner, because it has got a higher centre of gravity.
Pedestrians Are Part of Motoring World
This is how far we shall go in this edition of safety tips. But remember always that whenever you drive your car on the road, you are responsible for safety of yourself, your passengers and fellow road users, including PEDESTRIANS.
So please SLOW DOWN when approaching a Zebra Crossing, as a pedestrian might be about to cross. It is criminal to attempt to or actually knock down a pedestrian on a zebra crossing. It's a jail able offence. Please be careful out