In pursuant of the brand's Corporate vision of giving back to the society in 2020, Nissan Nigeria, a subsidiary of Stallion Motors, has given a "fun day at the movies' experience to the children of Motherless Babies Home and Vigilant Heart Orphanage, both of which are known to render exemplary service towards providing care for orphans and abandoned and underprivileged children in Lagos.
[dropcap]H[/dropcap]eld on Saturday, in association with Silver Bird Theatre, the event, according to Mr. Amit Sharma, sales head for Nissan in Nigeria, is one of the many activities that Nissan Nigeria– Stallion Group plans to carry out this year to inculcate safe driving culture in the young minds.
"The brand," Sharma stated further, "seeks to contribute to sustainable social development and carries out social contribution activities as a corporate citizen focusing on education, environmental awareness and humanitarian relief."
Not less than 70 orphans, aged from 7 to 12 years, from the selected charitable homes as well as their care givers, were sponsored to watch Dr. Dolittle movie at the Cinema. The children, whose enthusiasm went electric during the session, were also made to watch short movies on road safety norms.
Dr. Dolittle, an American fantasy adventure movie, features Dr. John Dolittle, a vet with an ability to communicate with animals, just as he was devoted to helping the community with medical needs. Upset, following the death of his wife, Dolittle stopped relating to humans, but concentrated in attending to medical needs of animals in the jungle.
However, most significant part of the movie was when Queen Victoria was down by a deadly disease, and requested Dolittle for cure, which can only be done using a recipe from a tree, information about which is contained in a book only available in a quite distant Island.
Prior to his departure, he had met a hunter boy who a accidentally shot a rabbit, which out of compassion, he took to Dr. Dolittle for treatment. The boy who later became Dolittle disciple, also accompanied DoLittle through what later became a precarious journey.
Though faced deadly opposition on the way, he arrived the Island, where he met Ginko, an angry, fire breathing dragon, which, though started by attacking, only to fall due to body pains from an ailment that also needed a cure.
Rather than seeing the dragon as an enemy, Dolittle figured out the cause of the ailment and succeeded in proffering a cure.
In line with the saying: "One good turn deserves another," Ginko the dragon showed Dolittle the tree from which he got the recipe plant he was looking for, returned home and cured the Queen of her deadly ailment.
And the Orphanage home children who watched the movie were expected to go with a lesson: "it is by helping others that we can help ourselves."
Reacting after the event, Seyi Awolowo, a popular TV personality of the Big Brother Naija fame, who came to cheer the children, commended Nissan for the initiative, which he described as a good way to give back to the society.
"It is a good act by Stallion to take care of the next generation," he said, adding, "If you don't take care of them, you don't know what is going to happen to them in the long run. The uncertainty might just be going negative. This is a fantastic gesture. Kudos to Stallion Motors.''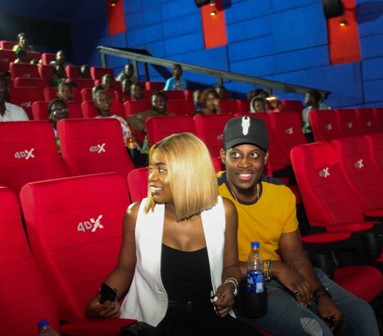 According to him,  "the message in the movie can be interpreted the way everybody feels. The children must have learnt few things from the message. I am hopeful that we are going to see among those kids those who will be movie Directors and Veterinarians. That is what the movie portrays. I am sure it is going to have positive impact on them. I became a child all over again. I was laughing myself out, same as the kids. They loved every moment of the movie.''
Also in attendance was another celebrity, Kiki Osinbajo, owner of the Fashion Power House, who also described the event as an amazing initiative for the children.
"This is creating memory at the end of the day," she said, adding "People feel what a child needs are just basic things like food, water, clothing but memories are important to a child. They will never forget.  I am proud of Nissan for the initiative to actually take care of these children and give them memory that they will remember for  life time and not just providing basic needs.''
''Apart from the memory,'' she stressed, '' it gave them an opportunity to hang out with their siblings in a more children environment. At the end of the day, it is a child smile we are looking at.''
The event is one of the many social activities that Nissan- Stallion Group planned to carry out this year to educate, create environmental awareness, provide humanitarian relief and inculcate safe driving culture in the young minds.