… Suggests Tallying System for Truck Drivers
Any truck having nothing important to do in the Apapa Port in Lagos should not be allowed on the road leading to the port. This was the advice offered by the Dangote Group of Companies during a stakeholders meeting called at the instance of the Western Naval Command of the Nigerian Navy in Lagos recently.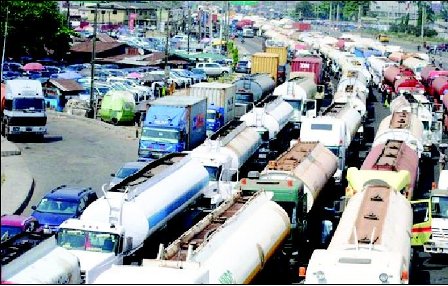 Speaking on the focus of the meeting: "finding a lasting solution to the chaotic traffic situation", Dangote company's traffic Manager, Mr  Mohammadu Rabiu blamed the perennial traffic problem along the road leading to Apapa Port  on activities of trailers that have no business in the port.
According to him, Dangote trucks were not among those constituting nuisance in the area. He explained: "Our Company's transport unit only sends out specific numbers of trucks that have business to do in the port.
"We sent about 40 trucks daily to our depot. But they have to remain on the bridge pending when they have access to the ports. Any single Dangote truck seen on the road is needed in the port. You will never see repair work being done on Dangote truck by the side of the road or on the bridges," he said.
Rabiu, therefore, advised the Nigerian Ports Authority to introduce tallying system for truck drivers, adding that any truck on Lagos roads without carrying tally should be turned back.
He advised: "Unwanted trucks that do not have anything to do in the port should not be seen on the road. The solution to the traffic problem in Apapa is by removing unwanted trucks from the roads,'' he added.