By: ROTIMI ASHER
Over the years, automotive retail marketing and sales involved more of dealers-buyers contact.
Of course, long before the outbreak of COVID 19, online sales were gradually building up, as the likes of Jumia Car (formally Carmudi) Car 45, Carxus, Cheki, Nigerian Car Mart, Inspired Autos, Affordable Cars have been online, selling new and used vehicles. Some even work as agents for auto dealers. Notwithstanding, up till the invasion of Corona Virus, most auto buyers, auto freaks and enthusiasts especially of brand new cars sold via Nigerian franchised dealers, still preferred visiting showrooms so as to have direct feel of the auto machines they chose to acquire.
However, following the coming of COVID-19, leading to shutting down of China, the hub of the world's auto manufacturing and sales, automobile Showrooms and manufacturing plants closed. Due to lockdown in many countries, including Nigeria, auto marketers lost sales. Ever since, things have not been the same for the industry.
However, amidst the lockdown and phased easing, auto makers and marketers around the world have proactively sought alternative avenues to keep their businesses alive, one of which has been opening of online shops as complements to their traditional corporate websites.
For instance, recently, Stallion Motors, Nigeria's exclusive representative of Porsche, Honda, Nissan, Hyundai, Changan and Ashok Leyland, launched what is now known as www.stallionafricar.com, an online platform, where auto buyers and owners could visit to search for new cars of their choice or book for after sales service or maintenance of their exiting automobiles.
Similarly, Kia Motors Nigeria has also launched an online platform and service centre to engage its customers.
Others that have not gone as far as setting up a special online showroom and customer service platform are encouraging their customers to contact them online, check clear photographs and specifications of their preferred automobiles and make phone calls or send an email for enquiries. From www.coscharisgroup.net, the official website of Coscharis Motors, Nigeria's franchise dealer for Ford, BMW, Jaguar Land Rover and Rolls Royce, for instance, it is now possible for prospective buyers to receive e-brochures on available new Ford, BMW, Jaguar Land Rover or Renault from the comfort of their homes.
Beyond auto sales, auto makers have also resorted to virtual new car launch. No thanks to Corona Virus pandemic, the practice of calling journalists to witness physical unveiling of car launch has been suspended indefinitely. All the recent car unveils have been carried out virtually.
A typical example was the recent online launch of Hyundai Venue by Stallion Motors Nigeria. Most recent example is Jaguar LandRover's proposed Virtual launch of its new DEFENDER, slated for July 16th 2020. A reminder invitation to Motoring World International's editor, Femi Owoeye, reads thus:
VIRTUAL LAUNCH 16.07.2020 …THE NEW DEFENDER IS HERE
Dear Femi,
We're days away from introducing the newest Land Rover to Africa.
Join us in being one of the first to experience the New Defender as never before; with the help of Kingsley Holgate and other friends of the brand.
Don't miss out on this historic event at 16h00 on Thursday, 16 July, register below and experience the Land Rover that's unstoppable off and on road.
Notwithstanding, with the ease of the lockdown, many auto dealers have reopened shops, with measures in place for necessary precautions to prevent the spread of the pandemic and safeguard their buyers and customers.
But as predicted by analysts, online auto sales will gain more ground even during as well as post-COVID 19. According to Toby Russell, CEO of Shift.com, an Online Car Sales Platform, , "When you look at the history of retailing, you'd see that some goods and services lend themselves to the standardized experience and market disruption that you've seen from the Amazons of the world. Hard goods like cars are usually late to the game, but my hypothesis is that the current environment is accelerating the shift toward digital."
No doubt, current circumstances determine the kind of business strategies that corporate organizations adopt. That is why innovative ones among them restructure their operation to suit new reality, which explains why many auto dealers in Nigeria are resorting to using online platforms both to sell automobiles and communicate with their customers.
Responding to an online interview on how Kia Motor Nigeria was able to weather the storm during the lockdown, the company's Marketing Manager, Mr. Olawale Jimoh said, ''we have to restructure our services and operation to conform to the new reality in order to continue to be in business during the period of the lockdown.
"The crisis took a great toll on our customers and our business operations, particularly, the customers whose basic service had been earlier scheduled. To comfort our customers and reassure them of our commitment to always cater for their vehicular needs, we had to launch an online platform and service centre to engage them in the comfort of their homes.''
With StallionAfricar.com, Stallion Motors have gone a step further, creating a showroom situation for a prospective customer. On the platform, there is a showroom attendant, who could engage a customer in chat, taking him or her through available brand of cars and answer all technical questions or even book a test drive. Indeed, a customer can even close a deal on StallionAfricar's platform and selected car can be delivered to him or her without visiting a showroom at all if he or she so wishes.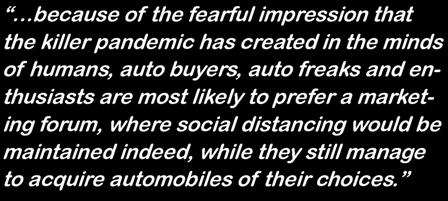 Fielding questions from Motoring World Correspondent in a recent media chat, Stallion Group's General Manager, Marketing, Ms Arpita Roy Luthra said most auto buyers, these days, engage in online search to find out information about their dream cars.
"Buying decisions by customers," She explained, "do not just happen all of a sudden, because you cannot just walk into a showroom one day and decide on the kind of car you want to buy. Your buying decision goes through series of events. These days, most auto buyers engage in online search to find out information about their dream car. So apart from portals for all our brands, we are also on Facebook, twitter, instagram and google search.
''Online marketing for a brand like ours is a way to ensure our brand get a larger visibility. We are doing a lot of activities online sending SMS and engaging our customers. We have been able to create online portals for all our brands. It makes things easier for them in terms of decision making.
"Accessing our portal makes life much easier for our customers in term of decision making. The only thing left is to come and see what the vehicle looks like physically and close the sale.''
According to Ms Luthra, Auto buyers who access the auto brands' portals of her company can shortlist two or three brands and book for test drive.
"Test drive booking," she stated further, " is much easier now. With StallionAfrica, you can book online, and then somebody will call you back and possibly send the car to your house for an experience. Before we give you the car, we also make sure it is sanitized.''
Although, full digitalization will make for a stronger auto industry, but the question remains: Could digitalization keep customers away from showrooms of auto dealers? Is it possible to close sales without seeing physically the automobile you have chosen? It is the belief of many auto marketers that digitalization cannot deter some auto buyers who prefer to visit auto showrooms to either book for test drive or close sale on the car of their choice.
According to a marketer, who spoke to Motoring World on a condition of anonymity, shopping for automobile online is just an alternative.
He said: "Enquiry, request and speaking to the sales person can all be done online, but the buying proper requires coming to the showroom."
One thing, however, is sure. Auto sales transition to a digital world will remove geographical boundaries. That means auto buyers can negotiate for their car online and get the dealers to deliver the vehicle wherever they are.
In spite of the fact that some auto dealers have seen the gain and shifted towards digitalization and online car sales, Russels noted, "lack of fully digital transaction capabilities will remain a major barrier to online car sales for many dealerships seeking to continue serving their customers and potential car buyers, who want to purchase vehicles, but are afraid to do so because they can't do so in a contactless manner.
While some dealerships are able to list their inventory online, few, if any, have the capability to facilitate a fully digital transaction, and even fewer have a way to offer test drives to customers in an environment when stores are either closed or customers are unwilling to go to them."
From the going of things, it appears post-coronavirus automotive marketing within the auto industry is changing. There is an acceleration of the shift to digital shopping and purchasing. With the auto business changing its "last mile" of the purchase journey, car companies and car dealers are most likely to drive consumers towards online purchase.
Even before COVID-19, the pendulum of automotive purchase was tilting towards digital. And Motoring World's online search during this pandemic era revealed a trend in which when someone doesn't buy a car online, he or she is researching that purchase online.
From all indications, therefore, consumers would no doubt come out of the ongoing pandemic crisis with an adaptation towards online ordering of automobiles much more than they did before thee pandemic.
Since, as health experts predicted, COVID-19 may be with humanity for longer than expected, auto manufacturers and marketers are likely to switch fully to and concentrate on online marketing, if they want to survive the new world. And, because of the fearful impression that the killer pandemic has created in the minds of humans, auto buyers, auto freaks and enthusiasts are most likely to prefer a marketing forum, where social distancing would be maintained indeed, while they still manage to acquire automobiles of their choices.